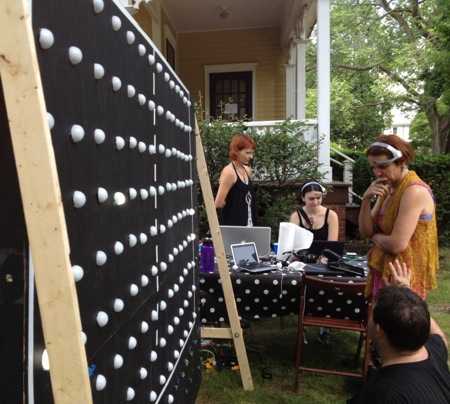 Our giant brain controlled game of pong was a great success at the FIGMENT New York festival on Governors Island. After a hundreds of man-hours of assembly, soldering and wiring, the board wasn't fully functional by the last ferry on Saturday, but visitors still enjoyed playing the small LoL Shield version that we also presented at the Westport Mini Maker Faire.
We brought in an oscilloscope on the Sunday 7 a.m. ferry, had a proper look at the clock signals and redid a handful of solder joints. This left us with a mostly usable 9×14 display with only a few dead pixels that could actually run the game. It was a huge success. There was a line to play the game on the big board for most of the day and we also set up the LoL Shield version with a separate EEG headset.
Read more updates on the project page and don't miss the great coverage on the New York Times City Room blog.