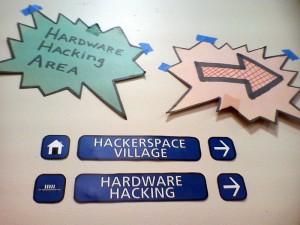 While New York and the rest of the Northeast baked in the latest summer heatwave, Hack Manhattan has been as busy as our rooftop bees in our most active July since records began (in September).
We threw our first rooftop party, featuring the ever popular arduino-and-brain-powered Brain Bats Jumbo. We also took it on the road again with a trip to the Come Out And Play After Dark event  at South Street Seaport. We'll bring it out again later in the year at World Maker Faire in Queens with new games like Frogger and Breakout. We also ran a well-received table this weekend at this year's Hackers on Planet Earth (HOPE) meeting.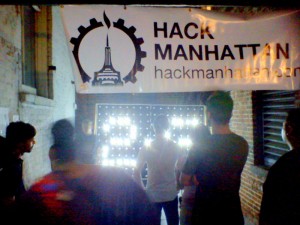 As our membership and visitor count has grown fast in our first few months, we also took the opportunity to expand within our building, and recently added several hundred square feet to our workspace. We're in the process of reorganizing all our tools and facilities, so just let us know what you want to see in your hackerspace, or get involved and help out!
Upcoming events in the next month include a talk and demo of the actual Apollo Guidance Computer that took American astronauts to the moon in in the 1960's. Join us for that or check out our facilities on Tuesdays and Thursdays for our open hack nights.